The term "MiG" is well known to all fighter jet enthusiasts around the world. The Soviet/Russian planes have become the standard foe in any military conflict since the Korean War. MiG aircraft have gone head to head with the best in the western inventory in Korea, Vietnam, Yugoslavia and the Middle East. During conflict, MiG aircraft have proven to be worthy opponents in the hands of skilled and well trained pilots. In air shows, crowds have learned to appreciate the MiG's performance and maneuverability. In terms of world records and statistics, the MiG design bureau has produced the largest number of jet aircraft (MiG-15) and supersonic aircraft (MiG-21). It has also claimed many speed and altitude records with amazing aircraft such as the MiG-25.
MiG Logo
MiGs parked at Monino museum, Moscow

The Russian Aircraft Corporation MiG, is a Russian joint stock company. Formerly Mikoyan-and-Gurevich Design Bureau, then simply Mikoyan, it is a military aircraft design bureau, primarily designing fighter aircraft. It was formerly a Soviet design bureau, and was founded by Artem Mikoyan and Mikhail Gurevich as "Mikoyan and Gurevich", with the bureau prefix "MiG." Upon Mikoyan's death in 1970, Gurevich's name was dropped from the name of the bureau, although the bureau prefix remained "MiG".

Artem Ivanovich Mikoyan was a Soviet aircraft designer of Armenian descent. He was born in Sanahin, Armenia. His older brother, Anastas Ivanovich Mikoyan, would become a senior Soviet politician. He completed his basic education and took a job as a machine-tool operator in Rostov, then worked in the "Dynamo" factory in Moscow before being conscripted into the military. After military service he joined the Zukovsky Air Force Academy, where he created his first plane, graduating in 1937. He worked with Polikarpov before being named head of a new aircraft design bureau in Moscow in December 1939. Together with Gurevich, Mikoyan formed the Mikoyan-Gurevich design bureau.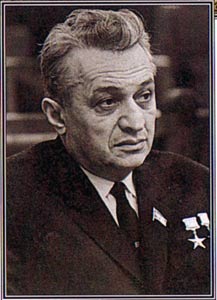 Artem Mikoyan

Mikhail Iosifovich Gurevich was a Soviet aircraft designer. He was of Ukrainian Jewish Heritage. Born to a family of a winery mechanic in a small township of Rubanshchina (Kursk region), in 1910 he graduated from gymnasium in Okhtyrka (Kharkiv region) with the silver medal and entered the Mathematics department at Kharkiv University. After a year, for participation in revolutionary activities, he was expelled from the University and from the region and continued his education in Montpellier University, and then specialized in aeronautical engineering in École Nationale Supérieure de l'Aéronautique et de l'Espace, France.
Mikhail Gurevich
In the summer 1914 Gurevich was visiting his home when World War I broke out. This and later the Russian Civil War interrupted his education. In 1925 he graduated from the Aviation faculty of Kharkov Technological Institute and worked as an engineer of the state company "Heat and Power".

In 1929 Gurevich moved to Moscow to pursue the career of aviation designer. In 1937 he headed a designer team in Polikarpov design bureau, and after 1939 was Vice Chief designer, after 1957 the Chief designer in Mikoyan-Gurevich design bureau.

The MiG Company had its start in 1939, when the Soviet leader Joseph Stalin ordered the formation of a department within the Moscow-based design bureau of the prominent aviation designer Nikolay N. Polikarpov to develop a new military fighter. Chosen to lead the project was a promising engineer in the bureau, Artem I. Mikoyan, who in turn requested Mikhail I. Gurevich, a close colleague, as his deputy. Their first design was the I-200 single-engine, high-altitude interceptor, which first flew in 1940 and which eventually bore the name MiG-1. The large number of defects noted during flight testing of the MiG-1 forced Mikoyan and Gurevich to make a number of modifications to the design. Testing was done on a full-size aircraft in the T-1 wind tunnel belonging to the Central Aero and Hydrodynamics Institute (TsAGI) to evaluate the problems and their proposed solutions. The first aircraft to see all of these changes applied was the fourth prototype of the I-200. It first flew on 29 October 1940 and was approved for production after passing its State acceptance trials. The first MiG-3 as the improved aircraft was named on 9 December, was completed on 20 December 1940 and another 20 were delivered by the end of the year.
MiG-3

State acceptance testing of two production aircraft was conducted between 27 January and 26 February 1941. They were found to be over 250 kg (550 lb) heavier than the MiG-1, which reduced maneuverability and field performance. Time to 5,000 m (16,000 ft) decreased by over a minute and the service ceiling proved to be 500 m (1,600 ft) less. The MiG-3 was faster at sea level and at height. While the ranges reached by both aircraft were farther than that of the older aircraft, they were still less than the 1,000 km (620 mi) required. Mikoyan and Gurevich protested against the range results as their calculations showed that the MiG-3 could reach 1,010 km (630 mi) based on a specific fuel consumption (SFC) of 0.46 kg/km (1.64 lb/mile). During the State acceptance trials the SFC was 0.48 kg/km (1.71 lb/mile) but the operational trials conducted earlier showed a SFC of 0.38 kg/km (1.35 lb/mile). They blamed the deficiency on a failure to use an altitude correction and that the engines had not been properly adjusted. They went as far as arranging for two more flights between Leningrad and Moscow to prove the MiG-3 could fly 1,000 km (621 mi). Two production aircraft were flown to ranges of 1,100 km (680 mi) and 971 km (603 mi), flying at 90% of maximum speed and at an altitude of 7,300 m (24,000 ft), contradicting the report of the NII VVS  (Russian abbreviation for Air Force Scientific Test Institute).

Despite the teething problems with the MiG-3, in 1941, one of the aircraft's designers—Mikhail Gurevich—was awarded the State Stalin Prize for his contribution to Soviet aviation.

A number of reports had been received about poor quality aircraft received by the regiments which pointed directly at the NII VVS as it was responsible for monitoring the quality of the aircraft delivered to the VVS. On 31 May 1941 the People's Commissariat of Defense decreed that the NII VVS had been negligent. A number of senior managers were demoted and the head of the Institute, Major General A. I. Filin was summarily executed.

A number of MiG-3s were found to have unacceptable performance at high altitudes despite being designed as a high-altitude interceptor. The oxygen supply was often insufficient and the stall and spin characteristics were very dangerous, especially to inexperienced pilots. This was demonstrated on 10 April 1941 when three pilots of the 31st Fighter Regiment of the Air Defenses (IAP PVO) attempted to intercept a German reconnaissance aircraft over Kaunas, Lithuania flying at 9,000 m (30,000 ft). All three aircraft entered irrecoverable spins and the pilots were forced to bail out, one being killed. The NII VVS sent an engineer to investigate and he found that the pilots had flown very few hours on the MiG-3 and that that was their first high-altitude sortie. Other problems included insufficient oil and fuel pressure at altitude due to problems with the pumps.

The MiG-3's top speed of 640 km/h (398 mph) at 7,200 metres (23,622 ft) was faster than the 615 km/h (382 mph) of the German Messerschmitt Bf 109F-2 in service at the beginning of 1941 and the British Supermarine Spitfire V's 603 km/h (375 mph). At lower altitudes the MiG's speed advantage disappeared as its maximum speed at sea level was only 505 km/h (314 mph) while the Bf 109F-2 could do 515 km/h (320 mph). Unfortunately for the MiG-3 and its pilots, aerial combat over the Eastern Front generally took place at low and medium altitudes where it had no speed advantage.
Bf-109
Supermarine Spitfire

The MiG's loaded weight of 3,350 kg (7,385 lb) was greater than the Bf 109F-2's 2,728 kg (6,014 lb) and it was less maneuverable in the horizontal plane than the Bf 109 due to its higher wing loading. This lack of maneuverability was exacerbated by the MiG-3's poor climb performance, its instability at high speeds and its weak armament. The MiG-3's standard armament was one 12.7 mm (0.50 in) UBS machine gun and two 7.62 mm (0.30 in) ShKAS machine guns. This was a rather light armament by international standards, for example most versions of the German Messerschmitt Bf 109 that it encountered were equipped with one 20 mm (0.79 in) autocannon and two 7.92 mm (0.31 in) machine guns. To remedy this problem, 821 aircraft were built with one 12.7 mm UBK machine gun in a pod under each wing in mid-1941. This lowered its speed by about 20 km/h (12 mph) at all altitudes, which was unpopular with the pilots, some of whom removed the pods. One hundred aircraft were equipped with a pair of UBS machine guns in lieu of the ShKAS weapons. Another 215 aircraft also had just the UBS machine guns but were fitted to carry six RS-82 rockets. A total of 72 aircraft mounted a pair of 20 mm ShVAK cannon. A wide variety of armaments were experimented with by various units at the requests of their pilots or to make up shortages.

MiG-3s were delivered to front-line fighter regiments beginning in the spring of 1941 and proved to be a handful for pilots accustomed to the lower-performance and docile Polikarpov I-152 and I-153 biplanes and the Polikarpov I-16 monoplane. Even after the extensive modifications made to the MiG-3 in comparison to the MiG-1 it was still tricky and demanding to fly. Many fighter regiments were not diligent in training their pilots to handle the MiG as it flew very differently than the older fighters and the rapid pace of deliveries aggravated things so that many units had more MiGs than they had trained pilots to fly them by the time of Operation Barbarossa. On 1 June 1941, 1,029 MIG-3s were on strength, but there were only 494 trained pilots. In contrast to the untrained pilots of the 31st Fighter Regiment those of the 4th Fighter Regiment were able to claim three German high-altitude reconnaissance aircraft shot down before war broke out in June 1941. However high-altitude combat of this sort was to prove to be uncommon on the Eastern Front where most air-to-air engagements were at altitudes well below 5,000 metres (16,000 ft). At these sorts of altitudes the MiG-3 was outclassed by the Bf 109 in all respects, but also by other modern Soviet fighters like the Yakovlev Yak-1. Furthermore the shortage of ground-attack aircraft in 1941 forced it into that role as well, for which it was totally unsuited. Pilot Alexander E. Shvarev recalled:
"The Mig was perfect at altitudes of 4,000 m and above. But at lower altitudes it was, as they say, 'a cow'. That was the first weakness. The second was its armament: weapons failure dogged this aircraft. The third weakness was its gunsights, which were inaccurate: that's why we closed in as much as we could and fired point blank."

Even with the MiG-3's limitations, Aleksandr Pokryshkin, the third-leading Soviet, and Allied, ace of the war, with 53 official air victories (plus six shared), recorded a number of those victories while flying a MiG-3 at the beginning of the war. He later recalled:

"Its designers rarely succeeded in matching both the fighter's flight characteristics with its firepower… the operational advantage of the MiG-3 seemed to be obscured by its certain defects. However, these advantages could undoubtedly be exploited by a pilot able to discover them".

Nowadays, only 3 MiG-3s are available around the world. The 3 aircraft have been rebuilt by the Russian company Aviarestoration. One is in the US and the third, rebuilt from one shot down in 1942, remain in Russia.
A restored MiG-3
By the time WWII was approaching its end, Germany and Britain had already invested in the design and production of jet powered aircraft. In 1944, both the Allies and the Nazis had their first operational jet fighters. The Soviet Union was still lagging behind in this field until the fall of the third Reich in 1945. German blue prints and designs would fall in the hands of the Soviets. In 1946, the Soviet Union would see one of its first operational jet fighters the MiG-9. More about the story of the MiG-9 will be discussed in the second part of this series.
Since this is all about model collecting :), I will conclude this article by adding that I own a 1:100 DeAgostini diecast model of this aircraft. The photo below is of the plane before unpackaging. I will post more photos when I get the plane allocated somewhere :).

To be continued…..